Smooth Flow Septic Pumping Service was started in 2005 out of a desperate attempt to get our septic tank pumped. It was one of those cold damp days in January and of course, during the holiday season. One of our children went to use the restroom and there it was, a sure sign of a problem. The toilet began to act funny and plungers did not work. Numerous attempts to get things working failed. We knew it was time to call a "pumper". That task proved to be difficult. We called several numbers that just rang and rang. There were a limited number of pumpers in the area and the quality ones were booked! The contractor that finally agreed to come out lacked knowledge, professionalism, equipment and the list goes on. In that instance, Smooth Flow Septic Pumping Service was born.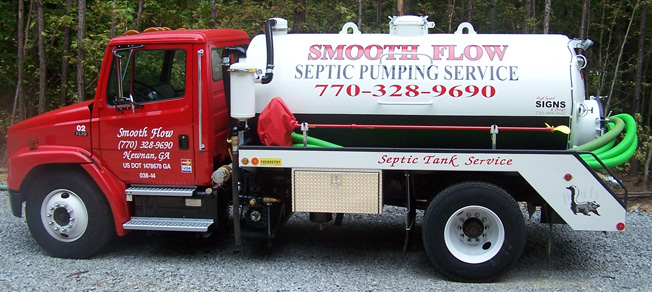 We have 2 pumper trucks in our fleet and soon will be adding a third. Both trucks are fully equipped with the latest equipment needed to get the job done. We are licensed and insured. We service Coweta and the surrounding areas. We attend Pumper & Cleaner Environmental Expo every winter. We are active member of the Georgia On site Wastewater Association. Our company is owner operated. The owner holds a Wastewater Certification Class III, Pumper and Installer license for both residential and commercial use.
One final bit of information……Where did we come up with the name? The name "Smooth Flow" was given by my mother. The name was suggested as a joke, but it was the only one that seems to flow. We all know a how important the name of a company can be. We have actually had people say they called us because they liked the name!
HAVE YOU BEEN PUMPED LATELY?