Pumping Services
A septic tank in normal condition is $425.00 for up to 1000 gallons and $525.00 for up to 1500 gallons. CrustBuster service is including with all pumping services at no additional cost as long as access to the tank gives space needed and condition of contents are suitable for the use of the equipment. Each of trucks is equipped with 100 ft. of hose to access tanks. To open and check septic tank for problems/unclogged $195.00. Filter cleaning without pumping tank is $190.00, filter cleaning with pumping service is 65.00. Replace filter is $200.00, replace baffle $225.00. It is not the policy of Smooth Flow Septic to charge for digging unless a tank lid cannot be accessed within 12 inches of digging by hand or if it is an older lid that are approximately 3 ft. by 4 ft., these lids have not been used since the late 1980's in our area. It is for the protection of everyone that these large lids are moved with an excavator. The tractor charge for these jobs are indicated by the type of excavator used, most only require our small tractor, which is $125.00. Current county code for maximum depth for placement of a tank access lids is 12 inches. Should your tank require the use of our tractor to access the lid there will an $125.00 charge for tractor service. In rare cases if a tank if over 3 ft. deep TracHoe service will required to access the lids and this service is $500.00 Installation of Sewer Popper with existing clean-out is $60.00.
Inspection Letter
$200.00 – Call for Details
$395.00 – Call for Details Inspection Letter and Open Tanking during Inspection
Pump Repairs or Replacements
Estimates for this work must be done onsite.
Drain Field Repairs
Estimates for this work must be done onsite.
Emergency and Weekend Service
This service is provided – call for pricing.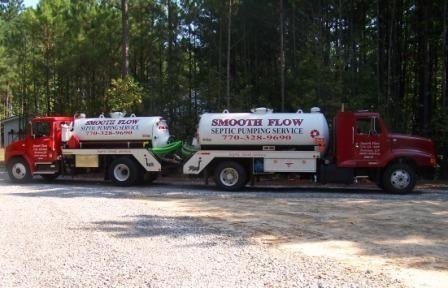 Smooth Flow Septic Tank Treatment
$45.00 for a years supply plus shipping.
Smooth Flows SK3 is simple to use. Just drop in the convenient pre-packaged, pre-measured pouches into your lavatory bowl. The plastic pouches dissolve away so you don't have to handle the powder. NO fuss – no bother – no effort!
BENEFITS OF SK3:
Extends Life of Drain Area
Controls Methane Production
Improves Drain Field Percolation
Keeps Sewer Lines Open
Neutralizes Detergent Bleach
Prevents Drain Blockage
Will Not Attack Plastic or Metal Plumbing
Safer to Use than Harsh Chemicals
Helps eliminate soggy soil caused by clogging
Degrades Paper, Grease and Vegetable Waste
Degrades Waste Faster
Eliminates odors which can attract insects